Welcome To Brentley Gore's UK Home Page
Hi there! As you can see, this page has a new format yet again, due to my old server not running anymore. There is much the same sort of stuff on here, if there is anything in particular you want to know about, just send a mail and ask me!
Also, I have started totally from scratch with this one, as the information on the old one was getting really old.
If there is anything you'd like me to add in particular, let me know and I will add it.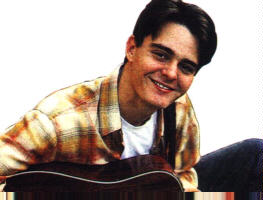 So who is Brentley Gore?
If you remember Matt Garrison from California Dreams, then read on


California Dreams ran from 1992 to 1996 and is still playing in many
countries around the world.


It was about a group of teenagers who started a band, called the
California Dreams. The original members were Matt Garrison (Brent Gore),
Jenny Garrison (Heidi Lenhart), Tiffani Smith (Kelly Packard), Tony
Wicks (William James Jones) and Sly Winkle (Michael Cade), to be joined
by Jake Sommers (Jay Anthony Franke) early in the second season. In the
middle of the second season Heidi left, to be replaced by Samantha Woo
(Jennie Kwan). Brent left at the end of the second season, to be
replaced by Mark Winkle (Aaron Jackson). At the same time Lorena Costa
(Diana Uribe) joined the cast.


After Brent left, he continued his music career.
I recently had a letter from Brent . He wanted me to let everyone know
that even thought he's been in hiding, he hasn't forgotten about his
fans.


Ask Jeeves!
Would you like to see the Dreams reunited? California Dreams reunion